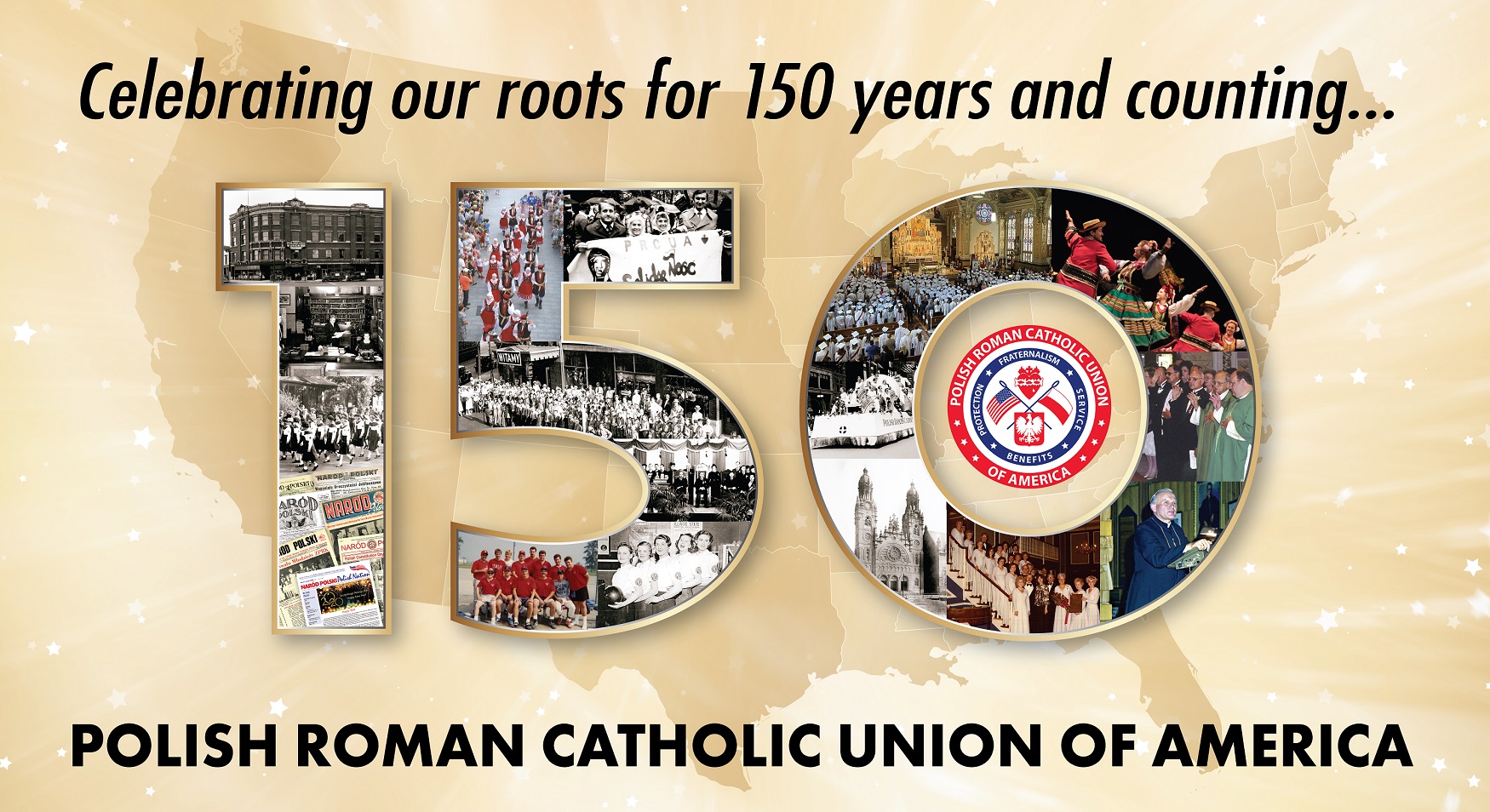 The Polsih Roman Catholic Union of America proudly celebrates its 150th Anniversary in 2023.
Below please find the list of the anniversary events planned for this year:
Saturday, April 22, 2023
PRCUA 150th ANNIVERSARY BANQUET AND BOWLING TORUNAMENT AWARDS CEREMONY IN OHIO
PRCUA Toledo Club
5525 N. Detroit Ave., Toledo OH 43612
Doors open at 6:15 pm
Dinner at 6:30 pm
Awards ceremony after dinner
Sunday, April 23, 2023, 12:00 noon
PRCUA 150th ANNIVERSARY MASS IN OHIO
Saints Adalbert and Hedwig Church
3233 Lagrange St., Toledo OH, 43608

Saturday, May 20, 2023
PRCUA 150th ANNIVERSARY WESTERN MICHIGAN CELEBRATIONS – CANCELLED
Golf Outing hosted by Society #58 and Society #1552 – CANCELLED
Followed by the gathering/dinner at the PRCUA Lodge featuring performance by the Malbork Dance Group – CANCELLED.
Sunday, May 21, 2023, 12:30 PM
PRCUA 150th ANNIVERSARY WESTERN MICHIGAN CELEBRATIONS
Mass at St. Isidore Parish
628 Damond Ave NE, Grand Rapids, MI 49503.
Malbork Dance School blessing. Fellowship following service.
Sunday, June 4, 2023, 12:00 PM
PRCUA ANNUAL SACRED HEART MASS & 150th Anniversary Celebration hosted by PRCUA Districts 7,8 & 9
Mass at The Carmelite Monastery
1628 Ridge Road, Munster, IN 46321
Luncheon following the Mass at The Carmelite Banquet Hall
Donation: Adults: $40   Children (age 3-12) $20
Reservation deadline: May 22, 2023
Please send reservation to Elizabeth Sadus, 847 Marian Way, Chicago Heights, IL 60411 or contact 708.481.6796
Sunday, July 9, 2023, 12:00 noon
PRCUA 150th ANNIVERSARY EASTERN MICHIGAN CELEBRATIONS 
Mass at St. Albertus Church
4231 Saint Aubin, Detroit, MI 48207.
PAHSA – Polish American Historic Site Association Picnic to follow, featuring performance by the PRCUA dance groups of eastern Michigan.
Sunday, October 1, 2023
PRCUA 150th ANNIVERSARY NATIONAL CELEBRATION
Join us for the PRCUA 150th Anniversary Mass at 9-10AM
Holy Trinity Catholic Church
111 S. Cass Ave
Westmont, IL
with a Jubilee Brunch to follow
Drury Lane Theatre and Events
100 Drury Lane in Oak Brook Terrace, IL.
For reservations please contact: 773.782.2603 or anna.grabowski@prcua.org
Dear PRCUA members and friends,
2023 marks the 150th anniversary of the Polish Roman Catholic Union of America, which we will be celebrating with a national gala on October 1, 2023. We are preparing a SOUVENIR JUBILEE BOOK in honor of these momentous events.
Please consider placing a time capsule greeting from your company or organization in our commemorative book, which will be presented to everyone attending the National Celebration Banquet.
This treasured keepsake will also be preserved in the Archives of the Polish Museum of America.
For ad contract with sample ads and corresponding prices PLEASE CLICK HERE.