Bowling
Livonia, MI – April 28-30, 2017, 80th PRCUA National Bowling Tournament
Hosted by Society #718 – St. Stan's.  
The 80th National PRCUA Bowling Tournament will be held on April 28, 29 and 30th. The tournament will be held at WESTLAND BOWL, 5940 Wayne Road, Westland, MI 48185, (734) 722-7570, www.westlandbowl.com, and is being hosted by PRCUA Society 718, St. Stan's (Canton, Michigan).
This year, we are excited to announce that since we have a bowling facility with enough lanes to accommodate our entire group, we are going to be having only one squad on each day. This means that we will not be having a morning squad on Friday (singles and doubles) or Saturday (team). We will still be having a morning squad on Sunday (singles and doubles).This exciting change will allow more of us to bowl at the same time!
Squad times are as follows:
Singles/Doubles – Friday, April 28, 2017 @ 11:30 AM
Team Event – Saturday, April 29, 2017 @ 12:00 NOON (Opening ceremony will be at 11:30 AM)
Singles/Doubles – Sunday, April 30, 2017 @ 9:00 AM
To secure your entry (and preferred squad day for singles and doubles), be sure to send in your completed entry form promptly along with the appropriate entry fees by the deadline. Please be sure to fill in all information on your entry form, including average information. The deadline for submitting your entry is Friday, March 31, 2017.                                  
The Embassy Suites in Livonia will be the host hotel for the tournament. To reserve a room, call the number listed below and ask for the "PRCUA" group rate. Call quickly to reserve your room as this offer is subject to availability. 
EMBASSY SUITES                                  Room Rate: $119 for King Suite (plus applicable tax)
19525 Victor Parkway                                                  $129 for Double Suite (plus applicable tax)
Livonia, MI 48152                                                          This rate includes a daily breakfast as well
(734) 462-6000                                                               as nightly cocktail hour.
Click here for the direct link to make your hotel reservations.
In addition to the bowling activities, our friends at PRCUA Society 718 have been busy planning a fun and exciting event for us all. Jerry and Frank Nasiatka, along with their crew are going to be hosting the following:
HOSPITALITY: A hospitality gathering will be held on Thursday, April 27th at the Embassy Suites Hotel from 6:30PM – 9:00PM. Complimentary Pizza Fest and subsidized liquid refreshments (beer, wine, pop).
CELEBRATION OF THE MASS: A celebration of the mass will take place at 6:30 PM on Saturday the 29th at the Embassy Suites Hotel.
AWARDS CEREMONY: The awards ceremony will be held after the mass at the Embassy Suites Hotel, until 11:00 PM. Complimentary snacks, desserts and draft beer (cocktails at subsidized pricing). Music from 8:00PM – 11:00PM.
An information packet will be distributed at the hotel and at the bowling facility detailing all of these special activities (along with directions). Additional information will be posted in a future issue of the NAROD POLSKI and posted online at www.prcua.org. Please mark your calendars, send in your completed entry forms, make your hotel reservations and prepare to have a great time at the tournament in the Detroit area! I am looking forward to seeing everyone there!
Regards,
Patrick Kosowski
PRCUA National Bowling Tournament Director
This year's minimal increase in price ($1) is due to increasing tournament costs.
Bowling Tournament Application (Click Here) ▼
Method 1: Submit Electronically

Please pay registration fee first, then you will be taken to online application.
OR
Method 2: Print and Mail
Click here to download PDF application, make your check payable to PRCUA, and mail the completed application to: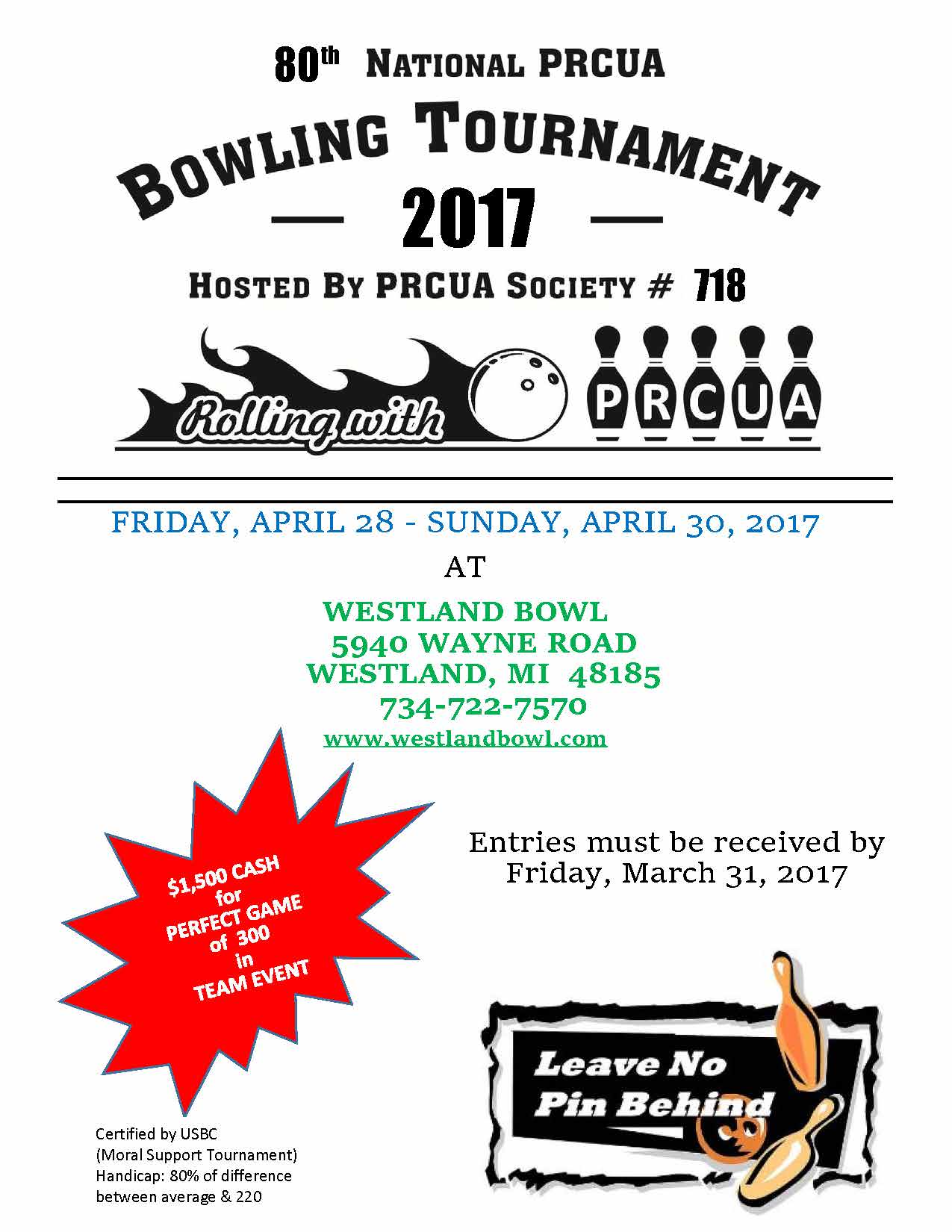 Polish Roman Catholic Union of America
Attn: Fraternal Department
984 N. Milwaukee Ave.
Chicago, IL 60642-4101
Questions? Please email linda-kasprzyk@prcua.org or call 1-800-772-8632 ext. 2601.
* All entries must be postmarked or electronically submitted by Friday, March 31, 2017!

Golf
Romulus, MI – July 21-22, 2017, 65th PRCUA National Golf Tournament
Hosted by Fr. Al's Society #1493.
The 64th Annual PRCUA National Golf Tournament was held July 23, 2016 in Sterling Heights, MI. It was a great day on the green. A big thanks to Jerry Lubiarz, chairman, and Society #1368-St. Rita, for hosting such a terrific event!

Please visit the PRCUA Facebook page to view photos and the final scores!
Softball
Warren, MI – Saturday, August 19, 2017, 63rd National PRCUA Softball Tournament
Hosted by PRCUA District 10 and Zakopane Dance Troupe.

The 62nd Annual PRCUA National Softball Tournament was held August 19-20, 2016 in Dearborn, MI. We thank the hosting society for a terrific event!
Basketball
Big Rapids, MI – March 18, 2017, 83rd National PRCUA Basketball Tournament
Hosted by Society #1368 – St. Rita.
The 83rd annual PRCUA basketball tournament was held on Saturday, March 18, 2017 in Big Rapids, MI, hosted by St Rita's #1368. The committee, chaired by Jason Losinski planned a series of fun events. All participants had a wonderful time!