Method 1: Submit Electronically
Fill out the form on the lower half of this page – Click here
OR
Method 2: Print and Mail
Click here to download a PDF of the IRA Required Minimum Distribution (RMD) form.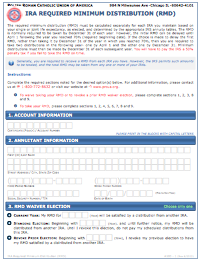 Send completed form to:
Polish Roman Catholic Union of America
Attn: Annuity Department
984 N. Milwaukee Ave.
Chicago, IL 60642-4101
If you have any questions please contact us online or call 1-800-772-8632

The required minimum distribution (RMD) must be calculated separately for each IRA you maintain based on your single or joint life expectancy, as elected, and determined by the appropriate IRS annuity tables. The RMD is normally required to be taken by December 31 of each year. However, the initial RMD can be delayed until April 1 following the year you reached 701⁄2 (required beginning date). If the choice is made to delay the first RMD, rather than taking it by December 31 of the year in which you reached 701⁄2, then you are required to take two distributions in the following year- one by April 1 and the other one by December 31. Minimum distributions must then be made by December 31 of each subsequent year. You will have to pay the IRS a 50% penalty tax if you fail to take the RMD on time.
Generally, you are required to receive a RMD from each IRA you have. However, the IRS permits such amounts to be totaled, and the total RMD may be taken from any one or more of your IRAs.
Instructions:
To waive taking your RMD or to revoke a prior RMD waiver election,

please complete sections 1, 2, 3, 8 and 9.

To take your RMD,

please complete sections 1, 2, 4, 5, 6, 7 and 8.