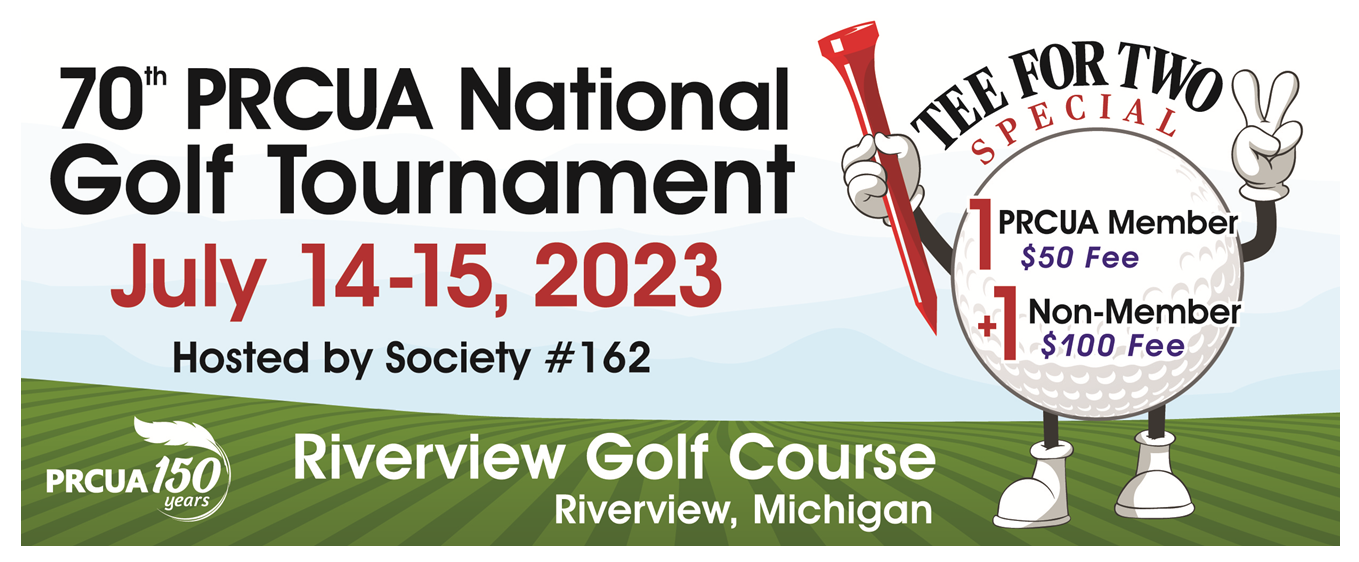 RIVERVIEW HIGHLANDS GOLF COURSE
15015 Sibley Rd.
Riverview, MI 48193
www.riverviewhighlands.com
(734) 479-2266
LODGING
Comfort Suites
18950 Northline Rd.
Southgate, MI 48195
Reservations: (734) 287-9200 by June 24th
$119/night plus taxes for one king bed or two queen beds, code: PRCUA Golf
WELCOME GATHERING
July 14, 6-10 p.m.
PRCUA Society 162 Lounge
1430 Oak St.
Wyandotte, MI 48192
Free beer and appetizers included
AWARDS CEREMONY
PRCUA Society 162 Hall
1430 Oak St.
Wyandotte, MI 48192
Tournament winners will be announced
Banquet is free for all golfers
Additional guests pay $15
Dinner served at 6 p.m.
Open Bar (beer & wine)
​
​GOLF TOURNAMENT
~ Shotgun Start: 9 a.m.
~ Four-Person Scramble
~ Contests: Closest to the pin, longest drive
~ Categories:
Ladies' 4-person teams
Men's 4-person teams
Mixed (2 men, 2 women)
Seniors, 70 and over (men, women, mixed)
~ Lunch provided for all golfers
TOURNAMENT SCRAMBLE RULES
On every hole, each team member may hit a tee shot. The team determines the best shot and then all team members hit from that location. This procedure is repeated until the ball is holed out. A team score is recorded and the team moves to the next hole.
TOURNAMENT ENTRY
Entry forms are available with this notice or online at prcua.org/sports. Registration fee (non-refundable) is $50 for members, $100 for non-members. Entries must be submitted by June 16, 2023.  No entries will be accepted after the deadline.
Not a member? Call (800) 772-8632 for membership information.